SKY Sound BASS is the ideal complement for the whole SKY Sound Fly line of processed self-powered systems, as it reproduces bass and subbass frequencies with high power and fidelity.
.
It also has audio distribution outputs (Hi and Low), with active 24dB/8, selectable at 80Hz, 120Hz, and 160Hz.
It sends only the high or low frequencies to the other system ways, taking the best of the power and fidelity of each module.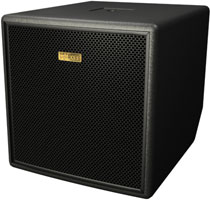 - General Specifications:
- 500 Watts RMS
- H Class
- Response: 30Hz to 160Hz (max)
- Active outputs at 24dB/8ª-
- Adjustable volume control
- Opto-compressor / limiter
- Auto-Mute
- Silent internal cooling
- Professional 18" speaker
- Damping >1000
- Integrated pedestal bracket
- Integrated transport wheels
- 3-Year warranty***.
.
.